Matsu no Tsukasa Junmai Daiginjo Dojō Betsu Shikomi Blue Label 2018BY | Saké Review
Today we introduce four sakes, each with a unique character imparted by different land soils cultivated by local farmers from the town of Ryūō.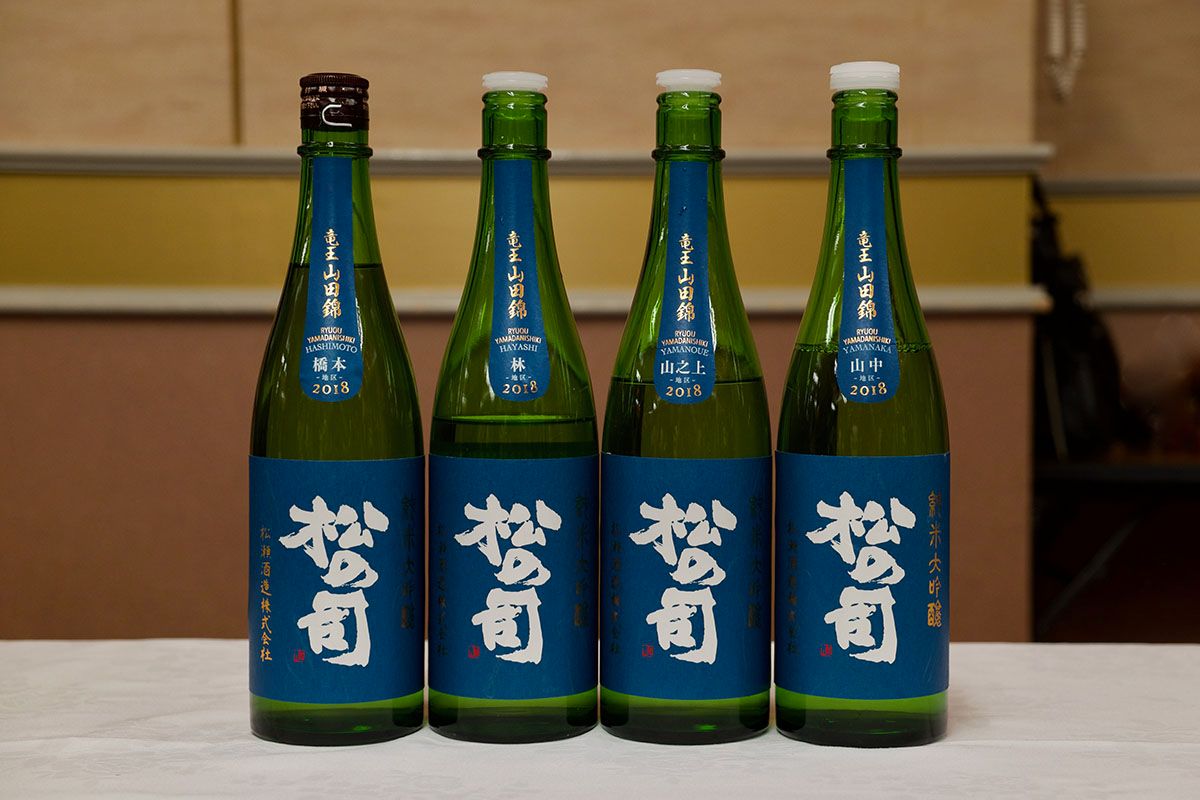 A Taste Shaped by Soil
Released by Matsuse Shuzō in 2017, Dojō Betsu Shikomi—meaning individually prepared soils—is a range of sake brewed with Yamada Nishiki rice, grown in the town of Ryūō by local farmers contracted to the brewery. Each sake is brewed identically in terms of method and yeast, the difference being the soil in which the brewing rice is grown.
Today, we are tasting four sakes from 2018BY[1]. Compared to 2017BY, which we tried last year, the differences made by the various soils were more apparent.
From left to right, the soil of Hashimoto (橋本) consists of clay and sand, which gives it a juiciness. A gentle astringency cuts through its floral and fruity aromas. Hayashi's (林) soil also comprises clay and sand. It has a full, elegant flavour which is, again, pierced by a gentle astringency. Pleasant umami follows in the aftertaste. Yamanoue (山之上) has a surprising character—while relatively light, it has a stimulating tanginess. Yamanoue's soil is made up of sand and gravel. Lastly, the Yamanaka (山中) field is composed of mountain soil, sand and gravel, including sand weathered from granite. Although it is soft and bold, the flavour comes right at you. Yamanaka has a pleasing, sweet aroma that lingers
The label on the back of each bottle exhibits the soil, a map of the field, and the farmer's name. Dojō Betsu Shikomi's brewer, Mr Matsuse began contract farming locally grown Yamada Nishiki in the late 1980s. He later reviewed his cultivation methods and in 1998 began growing without fertilisers, leading to the discovery that the soil's character heavily influences the resultant sake rice. The brewery's tōji[2], Mr Ishida, set out to make the most of this character in his sake, and Dojō Betsu Shikomi was born. "I wanted to feature the farmers I work with", Mr Ishida explains of the decision to spotlight local farmers, "this is reflected in the printing of the farmer's name on the label".
Tasting Notes
Ryūō Yamada Nishiki Hashimoto (橋本) – Clay + Sand
Tasted 2-3 months after pressing. Aroma of white flowers with a light apple scent. Juicy with a mild sweetness that persists. Firm acidity. Slightly astringent. Long aftertaste with pear aromas. Delicate impression.
Ryūō Yamada Nishiki Hayashi (林) – Clay + Sand
Tasted 3-4 months after pressing. Sharp but with a sweet, rich impression and deep flavour. It also has a lightness to it. Apple aroma. Tight with an astringency and a long, resonant, umami finish.
Ryūō Yamada Nishiki Yamanoue (山之上) – Red Clay + Gravel
Tasted 4–5 months after pressing. A slightly delicate first impression, but thick texture. Round sweetness. Apple-like fruitiness makes an impact. Lingering aroma of pear, wafer and a touch of melon. A tingling sensation is also present. The brewing water is Yamanoue Terashima Tei well water, the same water used in the field.
Ryūō Yamada Nishiki Yamanaka (山中) – Mountain Soil + Gravel
Tasted 5-6 months after pressing. Soft and slightly bold. Robust sweetness and acidity, alike. The flavour comes at you quickly, but is also smooth. Long finish with a hint of sweetness.
Tasting date: June 12, 2019
---
1: Brewing year
2: Master brewer
On the Label
Brewer: Matsuse Sake Brewery Co., Ltd at Ryūō, Shiga
Type: junmai daiginjo
Rice: Yamada Nishiki (50% polishing ratio)
Ryūō Yamada Nishiki Hashimoto (橋本)
Rice Farmer: Yoshitaka Tamura
Soil type: Clay + Sand
Ryūō Yamada Nishiki Hayashi (林)
Rice Farmer: Shigeaki Murata
Soil type: Clay + Sand
Ryūō Yamada Nishiki Yamanoue (山之上)
Rice Farmer: Tsutomu Takeyama
Soil type: Red Clay + Gravel
Ryūō Yamada Nishiki Yamanaka (山中)
Rice Farmer: Akihide Tsujisawa
Soil type: Mountain Soil + Gravel
References
---
Aleister (@sake.notes) translated this article from the Japanese text "土壌の違いが味に反映する「松の司 純米大吟醸 土壌別仕込 2018BY」."